The Jerusalem Temple Warning Inscription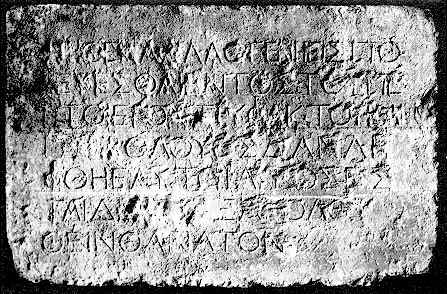 Temple Warning Inscription
Photo from: Frey (1936-52) Vol. 2




DESCRIPTION
The two copies of this inscription seem to have been identical—with the exception of a couple letters. The first copy (discovered in 1871) is virtually complete, with a few damaged letters—see the photo above. The second copy (discovered in 1935) is a fragment from the center of the inscription, showing partial words on six lines.

Language:
Greek
Medium:
limestone(?)
Size:
33.5cm long
22.5cm high
14.5cm thick
Length:
1st copy: 7 lines of writing
2nd copy: 6 lines
Genre:
Warning Inscription
Approximate Date:
1st century CE
Place of Discovery:
Jerusalem
Dates of Discovery:
1st copy: 1871
2nd copy: 1935

Excavators:
1st copy: C. S. Clermont-Ganneau
2nd copy: J. H. Iliffe
Current Locations:
1st copy:
Istanbul Archaeology Museum
2nd copy:
Rockefeller Museum, Jerusalem
Inscription Numbers:
CIJ 2.1400
(Corpus Inscriptionum Judaicarum)
OGIS II.598
(Orientis Graeci Inscriptionis Selectae)

GREEK TEXT
(The SYMBOL font is required
to display this as Greek)
TRANSLATION
by K. C. Hanson & Douglas E. Oakman



MHQENA . ALLOGENH . EISPO-
REUESQAI . ENTOS . TOU . PE-
RI . TO . IERON . TRUFAKTOU . KAI
PERIBOLOU . OS . D . AN . LH-
FQH . EAUTWI . AITIOS . ES-
TAI . DIA . TO . ECAKOLOU-
QEIN . QANATON



---

Note: Since HTML tends to crowd letters (as did many ancient scribes!), I have inserted periods between the words for clarity. Furthermore, the original does not include hyphens to show word-breaks.




No outsider shall enter
the protective enclosure
around the sanctuary. And
whoever is caught will
only have himself
to blame for the
ensuing death

DISCUSSION QUESTIONS

1. To what enclosure does this inscription refer?


---

2. What do we learn about this warning from Josephus? See Josephus, War 5.193-194; 6.124-126; Antiquities 15.417-418.


---

3. How does this inscription relate to Israelite purity standards? How many zones of purity were observed in the Jerusalem temple? Read Josephus, Antiquities 15.410-420.


---

4. What does this inscription explain about the anger directed at Paul in Acts 21:27-36?


---

5. What sort of "law enforcement" was available in the temple?


---

6. Do we know anything about the purity concerns at temples elsewhere in the Mediterranean world? Compare the article by Bickerman.


SELECT BIBLIOGRAPHY

Bickerman, Elias J. "Warning Inscription of Herod's Temple." Jewish Quarterly Review 37 (1946/47) 387-405.


---

Binder, Donald D. "Second Temple Synagogues: Jerusalem."


---

Deissmann, Adolf. Light from the Ancient East: The New Testament Illustrated by Recently Discovered Texts of the Graeco-Roman World. Translated by L. R. M. Strachen. 4th ed. Grand Rapids: Baker, 1965. (79-81 + Fig. 9)


---

Frey, Jean Baptiste. Corpus Inscriptionum Iudaicarum. Vol. 2. Rome: Poniticio Instituto di Archeologia Christiana, 1936-52.


---

Hanson, K. C., and Douglas E. Oakman. Palestine in the Time of Jesus: Social Structures and Social Conflicts. Minneapolis: Fortress Press, 1998.


---

Illife, J. H. "The QANATOS Inscription from Herod's Temple, Fragment of a Second Copy." Quarterly of the Department of Antiquities in Palestine 6 (1938) 1-3 + Plate I.


---

Rousseau, John J., and Rami Arav. Jesus and His World: An Archaeological and Cultural Dictionary. Minneapolis: Fortress Press, 1995 (312-13).


---

Schürer, Emil. The History of the Jewish People in the Age of Jesus Christ (175 B.C.—A.D. 135). Vol. 2. Edited by G. Vermes, F. Millar, M. Black, P. Vermes. Edinburgh: T. & T. Clark, 1979 (284-86).


---

Segal, P. "The Penalty of the Warning Inscription from the Temple in Jerusalem." Israel Exploration Quarterly 39 (1989) 89-94.


---

Seland, Torrey. Establishment Violence in Philo and Luke: A Study of the Torah and Jewish Vigilante Reactions. Biblical Interpretation Supplements 15. Leiden: Brill, 1995 (284-91).

Return to Palestine in the Time of Jesus

Return to K. C. Hanson's Collection of Greek Documents

Return to K. C. Hanson's HomePage
Last Modified: 2 June 2008